AAFP on motherboard: The AAFP Connector, also known as Analogue Audio Front Panel, is a 10-1 pin header that enables you to directly connect the front audio ports on your PC case to the sound card or chip on your motherboard.
The USB ports, Reset, and Power buttons, as well as a microphone/3.5mm headphone jack are typically located at the front of enclosures. By inserting the AAFP connector into the motherboard, you can activate these audio jacks.
To put it another way, the AAFP header makes it easier to connect in your headphones and microphone by using these front ports rather than the awkwardly placed audio ports on your motherboard's I/O shield at the back of the case.
Where Is AAFP Located on the Motherboard?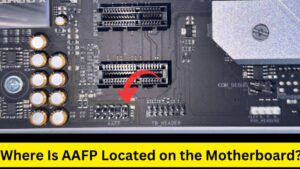 On a motherboard, the AAFP (Analogue Audio Front Panel) connector is often found close to the bottom border or along one of the sides. Depending on the model and manufacturer of the motherboard, its exact position may change.
You can consult the documentation or user manual for the motherboard to learn where the AAFP header is located. The motherboard's layout and pin configuration, including the position of the AAFP header, will be covered in great detail in the manual. It could have been marked with "AAFP," "Front Panel Audio," or another designation.
The audio wires from the front panel of your computer can be connected to the right pins on the AAFP header once you've located them. This enables you to connect headphones, microphones, or other audio equipment to the front audio panel's ports.
You can get special instructions and help specific to your motherboard model by reviewing the manual for your motherboard or getting in touch with the manufacturer's support if you need help locating the AAFP header or require an additional path.
Fixing Issue with AAFP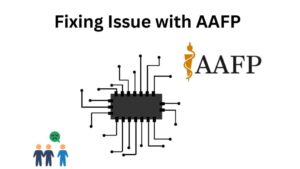 When you are experiencing some issues in analogue audio panel in your computer, then best solution is troubleshooting. Here are some steps for Troubleshooting as under:
Check your Conections: Make sure that the motherboard's matching audio header is properly connected with audio front panel connection. Check to make sure the connections are secure and undamaged.
Check your Audio Setting: Go to the setting of your computer's audio settings and ensure that the front panel audio is turned on and as the default audio output source. These options are located in your audio control panel.
Test with headphones or speaker: Connect with another pair of headphones or speakers to the audio panel to see if the problem is in your headphones or speakers themselves. If you hear sound from a different device, the headphones or speakers may be damaged.
Check the Update of Audio drivers: Make sure your motherboard is running the most recent audio drivers. If not then download the right audio drivers for your model, if already downloaded then restart your PC after installing the drivers.
Check for physical Damage: On the front panel of the audio port, check for any physical harm or loose connections. If there are any physical issues, such as broken pins or broken ports, think about seeking professional assistance or replacing the front panel.
Check with rear ports of audio: To help focus on the issue, try connecting your speakers or headphones to the computer's audio ports. There can be an issue with the front panel itself if the rear ports generate audio but the front panel does not.
Consult manufacturer support: Consider contacting the manufacturer's support if the problem continues for additional guidance. They might offer detailed troubleshooting instructions or, if required, suggest fixes or upgrades.
Always use caution while working with computer hardware, and if you feel uncomfortable while performing these troubleshooting procedures on your computer, it is advised that you get expert assistance to prevent any potential damage to your computer.
Also Read: Is Parrot OS better than Kali Linux? Parrot OS vs Kali Linux
AC'97 or HD Audio Connector?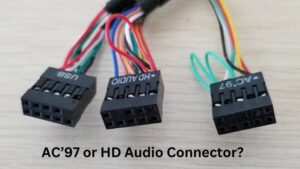 On motherboards, there are two main kinds of audio connectors: HD Audio and AC'97 (Audio Codec '97).
AC'97 Connector: From the late 1990s to the early 2000s, motherboards frequently featured the AC'97 connector, an older audio standard. It has a 9-pin or 10-pin connector and provides stereo output and mono input for the most fundamental audio features. Standard audio quality is provided by AC'97, which is also compatible with earlier operating systems and audio equipment.
HD Audio Connector: AC'97 was superseded by the HD Audio (High Definition Audio) connector, commonly called the Front Panel Audio header. Compared to AC'97, it offers better functionality and superior audio quality. A 9-pin or 10-pin connector, or occasionally a larger multiple-pin connector, makes up the HD Audio connector in most cases. It enables functions including enhanced surround sound, multi-channel audio, and noise cancellation for microphones.
It is typically advised to utilise the HD Audio connector if one is available rather than the AC'97 connector. Modern systems prefer HD Audio since it has improved functions and greater audio quality. The appropriate AC'97 header on the motherboard must be used in circumstances where older cases or audio equipment still retain AC'97 connectors.
It's vital to remember that motherboards typically only accept one type of audio connector at a time, never both. Make sure to connect the front audio ports of your computer case to the proper header on the motherboard by matching the connection type (AC'97 or HD Audio) on the case with the ports.
You may find out specifics about the supported audio connector type and the associated header on the motherboard by consulting the manual or paperwork that came with your motherboard.
Which One's Better AC'97 or HD Audio Connector?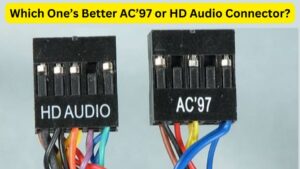 The HD Audio Connecter is better than the AC'97. Here are the some reasons why HD Audio Connecter is better than AC'97:
Quality of Audio: HD Audio provides higher audio quality compared to AC'97. HD Audio supports a higher sample rate and more accurate audio reproduction. But AC'97 is not supports higher quality according to HD Audio.
Enhanced Features: HD Audio supports advanced features. But AC'97 has not supported any advanced features. Some of the Enhanced features are multi-channel audio for surround sound systems, microphone noise cancellation, and better audio capabilities.
Compatibility: Although AC'97 was once commonly utilised, HD Audio is now the industry standard for audio connections on modern motherboards. It works better with the most recent computer audio hardware and software.
Future-Proofing: By choosing the HD Audio connector, compatibility with both present and future audio technologies is secured. You can benefit from new developments in audio technology as they become available.
It's important to keep in mind that your system's individual requirements may also influence your decision between AC'97 and HD Audio. Using the AC'97 connector would be appropriate if you have an older system or devices that only support AC'97. However, HD Audio is the favoured option for the majority of contemporary systems because of its greater audio quality and improved features.
It's critical to confirm the type of audio connector your motherboard supports before using the appropriate header to connect the front audio ports of your computer case. The HD Audio connector, which is the suggested option for optimum audio performance, is included on the majority of motherboards today.
Also Read: VGA Light on Motherboard – how to fix it and what is it
FAQ
What is the HD audio used for on motherboard?
The most commonly used sound driver for Windows systems, Realtek High Definition Audio Driver lets your computer manage surround sound, Dolby, and DTS sound systems. Since you require this driver in order for your audio device to function at all on a computer, deleting it would result in major audio problems.
What does HD Audio port do?
Dolby Digital and DTS surround sound can be played back on eight channels (7.1) of 32-bit, 192 kHz audio thanks to Intel's 2004 introduction of HD Audio, which replaced AC'97. Multiple listening zones are supported, and the same port can be used for a speaker or microphone (automatic jack retasking).
Does HD Audio need to be plugged in?
It is for the front panel audio connections on your computer case. You can leave it unplugged if you are not using it.
Do I need Realtek HD Audio?
We strongly advise using it.
Conclusion:
In order to make it simple to access audio devices from the front panel of a computer case, the AAFP (Analogue Audio Front Panel) header is incredibly important. Users can connect their speakers, headphones, and microphones with ease by connecting the front audio ports to the AAFP header, which improves the quality of their audio in general. Users can make efficient use of this capability when creating or updating their computer systems by being aware of the AAFP and its objectives.