The DELL Latitude E5410 is a stylish laptop which is designed for professionals and students seeking a reliable and efficient device for work and study. Its compact design and powerful performance, and user-friendly features, the Latitude E5410 is a great choice for individuals looking for a reliable laptop that can handle everyday task.
In this blog, we will talk about The DELL Latitude E5410 main features, technical details, and user-friendliness. Display, design, processor speed, RAM, storage, connectivity, and ports, as well as its user-friendly features everything we will talk about it. We'll also talk about its operating system, software, price, battery life, and power.
A 35.8 cm (14.1-inch) laptop, the DELL Latitude E5410 strikes the ideal mix between mobility and functionality. It is perfect for both workplace use and productivity while on the go thanks to its slick appearance and robust construction. This laptop delivers a dependable performance that meets a variety of purposes, whether you need to finish job tasks, browse the internet, or enjoy multimedia content.
Key Features and Specifications :-
Display and Design
The Latitude E5410 boasts a vibrant 35.8 cm (14.1-inch) display that delivers crisp visuals and excellent color accuracy. The anti-glare coating minimizes reflections, allowing for comfortable viewing in various lighting conditions. Its compact and lightweight design makes it easy to carry, whether you're heading to a meeting or traveling between classes.
Performance and Processing Power
Equipped with an Intel Core i3-370M processor, the Latitude E5410 offers ample power to handle everyday computing tasks with ease. The dual-core processor ensures smooth multitasking, allowing you to work on multiple applications simultaneously without experiencing any significant lag. Whether you're working on documents, browsing the web, or editing photos, the E5410 delivers a responsive performance.
Storage and Memory
The Latitude E5410 comes with a spacious hard drive that offers ample storage capacity for your files, documents, and multimedia content. With its generous storage space, you can easily store your personal and professional data without worrying about running out of space. Additionally, the laptop features a sufficient amount of memory to ensure efficient multitasking and smooth operation of applications.
Connectivity and Ports
The Latitude E5410 has a variety of ports to suit your demands when it comes to connectivity possibilities. It contains HDMI port, USB port, and Ethernet option for wired internet connection as well as a multi-format card reader for easy and fast data transfer. It also has USB ports for connecting external devices. The E5410 provides the required ports, whether you need to connect a printer, an external storage device, or an external monitor.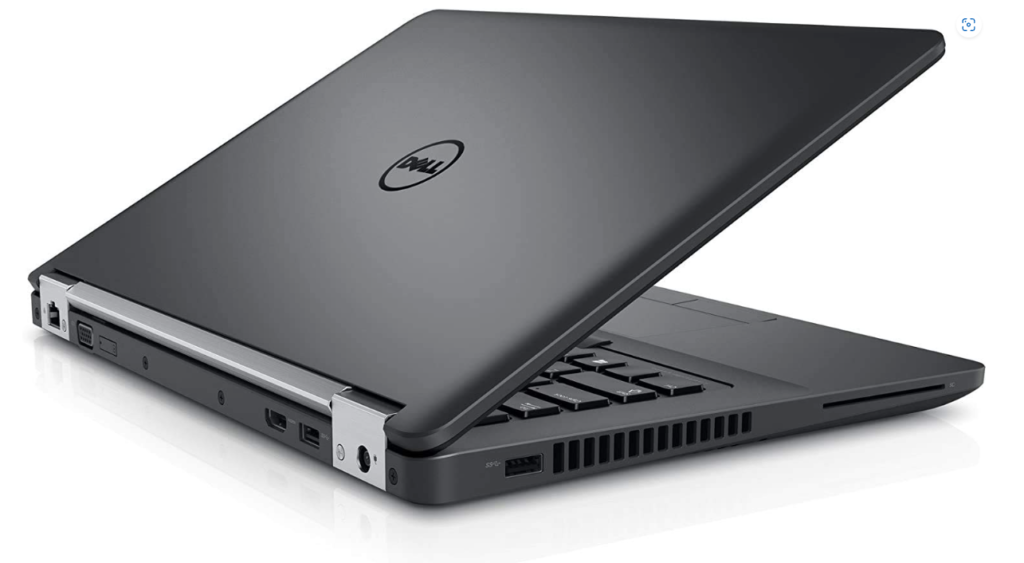 Keyboard and Touchpad
The laptop has a comfortable and responsive keyboard that enables for smooth and accurate typing. The keys are well-spaced and provide decent tactile feedback, making extended typing sessions a breeze. Furthermore, the touchpad is intuitive and quick, allowing precise cursor control and support for multi-touch gestures, boosting your productivity and convenience of use.
Audio and webcam
The built-in webcam and microphone on the Latitude E5410 allow you to participate in video conferences and virtual meetings with clarity and simplicity. The camera captures bright and precise video, while the inbuilt microphone guarantees that your speech is heard loud and clear. Furthermore, the laptop has good audio quality, making it appropriate for multimedia consumption and casual leisure.
Security Features
The Latitude E5410 offers several security features to protect your data and privacy. It includes a fingerprint scanner that allows for secure and convenient login, ensuring that only authorized users can access your laptop. Additionally, the laptop provides encryption options and robust security software to safeguard your sensitive information from unauthorized access and potential threats.
Battery Life and Power Efficiency
Power management is important for a laptop, especially for people who are always travelling. The Latitude E5410 excels in this area thanks to its long battery life and high power efficiency. This laptop's battery can last for long on a single charge, letting users to perform tasks such as work, browse, and stream without worrying about running out of power. This makes it an excellent companion for travel, work, or lengthy periods of study.
Software and the operating system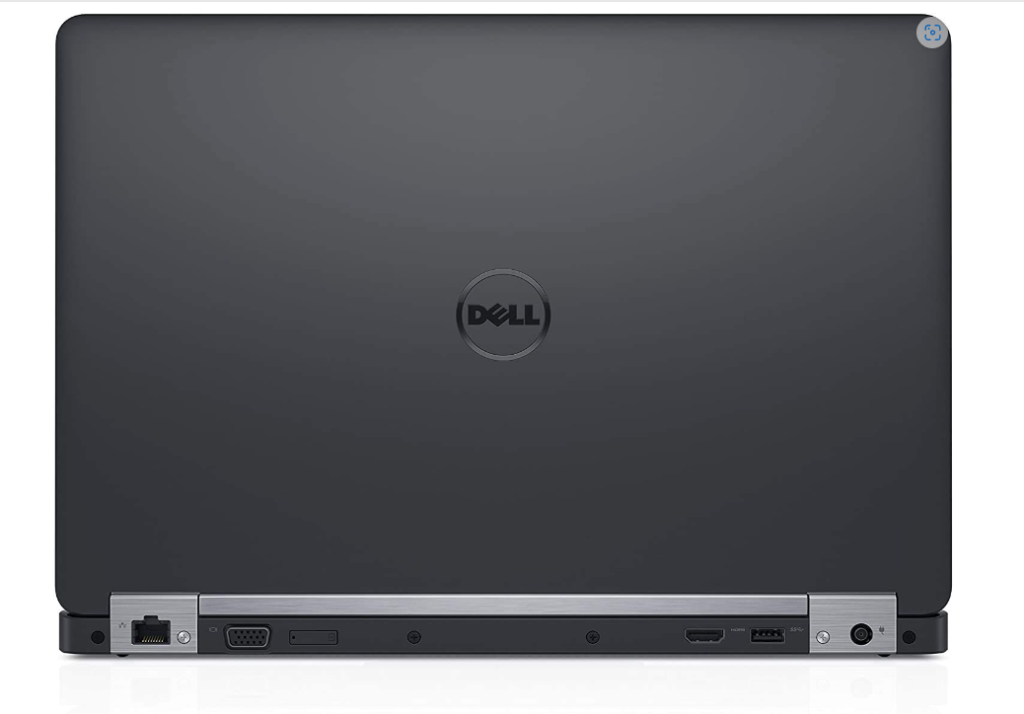 The pre-installed operating system of the Latitude E5410 ensures a smooth and user-friendly computing experience right out of the box. It supports a wide range of software applications, allowing you to adapt and customise your laptop to your specific needs and preferences. Whether you're a student, professional, or casual user, the Latitude E5410 offers a versatile and adaptable operating system.
Pricing and Inventory

The DELL Latitude E5410 i3-370M is fairly priced and provides good value for money in terms of features and performance. It is readily available in both online and offline retailers, making it accessible to those looking for a dependable and efficient laptop solution.
Pros and Cons
Pros
Compact and portable design for on-the-go productivity.
Powerful performance for smooth multitasking.
Ample storage capacity for files and documents.
Wide range of connectivity options for versatility.
User-friendly features like a comfortable keyboard and responsive touchpad.
Integrated webcam and microphone for video conferencing.
Security features like a fingerprint scanner for data protection.
Impressive battery life for extended use.
Cons
The display resolution could be higher for enhanced visuals.
Limited graphics capabilities for demanding multimedia tasks.
The absence of a dedicated graphics card may limit gaming performance.
Conclusion
The DELL Latitude E5410 i3-370M is a reliable and efficient laptop that offers a combination of performance, portability, and user-friendly features. With its sleek design, powerful processing capabilities, and extensive connectivity options, it caters to the needs of both professionals and students. Whether you require a laptop for work, study, or entertainment purposes, the Latitude E5410 is a dependable choice that provides value for money.
F.A.Q.s
Can the DELL Latitude E5410 i3-370M handle demanding tasks?
The Latitude E5410 is designed for everyday tasks and moderate computing needs. While it can handle tasks like document editing, web browsing and many more things.
Can I upgrade the storage and memory of the Latitude E5410?
Does the Latitude E5410 come with pre-installed software?
Is the Latitude E5410 suitable for gaming?
While the Latitude E5410 is not specifically designed for gaming, it can handle light gaming and older titles. However, due to its integrated graphics and limited graphics capabilities, it may not provide an optimal gaming experience for more demanding and graphically-intensive games.
What are the available color options for the Latitude E5410?
The Latitude E5410 is usually available in a standard black or silver color, offering a sleek and professional appearance.
Does the Latitude E5410 have a DVD drive?
The Latitude E5410 does not come with a built-in DVD drive. However, you can use external DVD drives or opt for digital downloads and streaming services for software installations and media playback.
Note :- If you have any specific questions or concerns regarding the DELL Latitude E5410, it's always recommended to check with the manufacturer or authorized retailers for up-to-date information.
Disclaimer: The inclusion of any affiliate links in this article is for informational purposes only and does not constitute endorsement or recommendation of the products or services being linked.